lunedì, giugno 8th, 2009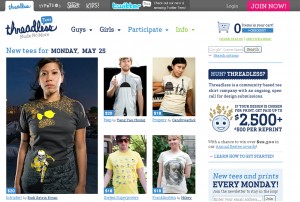 Threadless is "a community-based tee shirt company with an ongoing, open call for design submissions - if your design is chosen, get paid $2500 + $500 per reprint"
Threadless is basically a website offering two possibilities: proposing t-shirt graphic designs and buying t-shirts. Both these paths can then be explored by using different keys.
For what concerns graphic design, the "Participate" area of the website allows users, after logging in, to: upload their own graphic proposals, or just submit them for a pre-upload critique; have a complete panorama of proposed designs and score them (0 up to 5) thus getting the most wanted designs printed on Threadless sold tees; access a blog where to get news about new collections or events proposed. Other areas in the website introduce instead to the sale tools.
Threadless innovation is both in the area of business and social-cultural behaviour, mainly focused on the idea of a continuous contest exciting the whole users-designers' community: co-design is the real empowering engine of the concept.
Innovation can also be found in brand image strategies: the whole Threadless environment is featured with a low-profile attitude aiming to appeal a precise customer typology, such as young and "alternative" people.
In fact, the concept is creating a business by creating a community sharing a meaning of certain aspects of lifestyle and creativity.
The way to make this particular organization effective is a continuous simplifying of practices and techniques, and it is reached bythe simple setting of prexcise rules.