sabato, giugno 6th, 2009
One of "Fas.P.onSite" project main point is just the idea that the client must be an active part of the design & productive process, in order to create a hyper personal and customized product. "Do-it-yourself" is an example of a customer who is a designer/stylist too, even if he has no active role in the production. This is possible thanks to an innovative textile or just simple buttons.
The "Colour-In Dress" is a simple dress with a black and white print, which is especially designed to fill with coloured textile markers.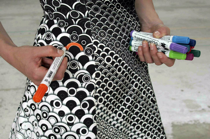 The "Replacement Dresses" exists out of three dresses attached to each other by buttons. This makes it possible to combine the three different prints in a way the wearer prefers.