OptiTex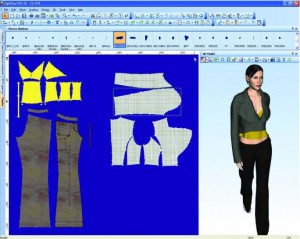 OptiTex is a 2D and 3D Microsoft Based CAD software that can fulfill the needs of fashion manufacturers in term of digitizing models and designing fashion products. The stage of prototyping of a dress for example has always been very expensive and unsustainable, due to material and economical waste.
OptiTex can solve this problem with a modern idea of prototypes: a virtual simulation of the final dress could be created and displayed on a screen, highlighting design, colors and material properties before the "real creation".
Basic 2D tools have also more efficient 3D versions, that can provide a more interesting visual output. Particular tools have the goal of transform into 2D pattern each 3D model, and to create a 3D view out of the 2D design of pieces.
Group A