Factory Boutique Shima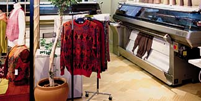 Wajima Kohsan Ltd. opened a "Factory Boutique Shima" in Wakayama, Japan at the end of 1995; this shop combines a production factory and a retail boutique, creating a revolutionary mash-up. This hybrid is possible thanks to Shima Seiki's technology, which creates one-piece three-dimensional garments directly on the knitting machine. The customer is required to be in the boutique for 1 or 2
hours in order to select a certain style from a sample book, select color and yarn, be photographed in a studio and be provided with the composition which simulates the sweater design on him/her.
Prices range from 15,000 to 30,000 Japanese Yen (at present, 125 – 250$).
In this kind of shop there's no technological tool such as the "magic mirror" or a computer-based 3D avatar used to design the garment: for such reason the Factory Boutique Shima is an innovative yet rudimental project compared to Fas.P.onSite.
by Team A