Victimless Leather- A Prototype of Stitch-less Jacket grown in a Technoscientific "Body"
A new way of production????
Maybe the sciences will allowed us to creat our products in a totaly different way!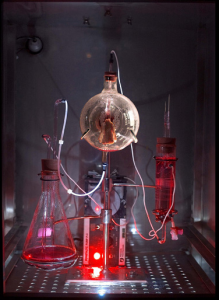 http://www.tca.uwa.edu.au/
Take a look on the web site!
"
The Victimless Leather is grown out of immortalised cell lines which cultured and form a living layer of tissue supported by a biodegradable polymer matrix in a form of miniature stich-less coat like shape. The Victimless Leather project concerns with growing living tissue into a leather like material.
This artistic grown garment will confront people with the moral implications of wearing parts of dead animals for protective and aesthetic reasons and will further confront notions of relationships with living systems manipulated or otherwise. An actualized possibility of wearing 'leather' without killing an animal is offered as a starting point for cultural discussion.
…"
Tags: consumo, design, distribuzione, produzione, tecnologia