The future of food?
Scientists use stem cells to produce pork in the laboratory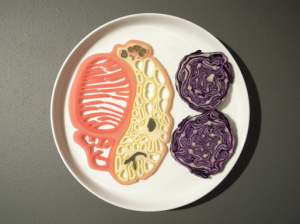 Dutch scientists have been growing pork in the laboratory since 2006, and while they admit they haven't gotten the texture quite right (the lab-grown meat has the consistency and feel of scallop), they say the technology promises to have widespread implications for our food supply.
"If we took the stem cells from one pig and multiplied it by a factor of a million, we would need one million fewer pigs to get the same amount of meat," said Mark Post, a biologist at Maastricht University involved in the In-vitro Meat Consortium, a network of publicly funded Dutch research institutions that is carrying out the experiments.
Several other groups in the U.S., Scandinavia and Japan are also researching ways to make meat in the laboratory, but the Dutch project is the most advanced, said Jason Matheny, who has studied alternatives to conventional meat at the Johns Hopkins Bloomberg School of Public Health in Baltimore and is not involved in the Dutch research.
In the U.S., similar research was funded by NASA, which hoped astronauts would be able to grow their own meat in space. But after growing disappointingly thin sheets of tissue, NASA gave up and decided it would be better for its astronauts to simply eat vegetarian.
To make pork in the lab, Post and colleagues isolate stem cells from pigs' muscle cells. They then put those cells into a nutrient-based soup that helps the cells replicate to the desired number.
So far the scientists have only succeeded in creating strips of meat about 1 centimetre (a half inch) long; to make a small pork chop, Post estimates it would take about 30 days of cell replication in the lab.
There are tantalizing health possibilities in the technology. The Dutch researchers started working with pork stem cells because they had the most experience with pigs, but said the technology should be transferable to other meats, like chicken, beef and lamb.
"As long as it's cheap enough and has been proven to be scientifically valid, I can't see any reason people wouldn't eat it," said Stig Omholt, a genetics expert at the University of Life Sciences in Norway. "If you look at the sausages and other things people are willing to eat these days, this should not be a big problem."
Tags: cibo, consumo, distribuzione, produzione, tecnologia