Sustainable Residential Design: Using Low-Impact Materials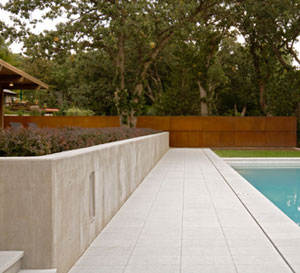 ASLA created a new online resource guide on using low-impact materials in sustainable residential landscape architecture. The guide contains lists of organizations, research, concepts and projects related to plants and sustainable landscape architecture, and includes sections on: permeable materials, certified woods, reclaimed and recycled local materials, recycled content, reflective materials, and adhesives, paints, coatings and sealants. Developed for students and professionals, the resource guide contains recent reports and projects from leading U.S. and international organizations, academics, and design firms.
This sustainable residential design resource guide is the third in a new four part series. See earlier guides in the sustainable residential design series: increasing energy efficiency,  improving water efficiency and maximizing the benefits of plants. 
The guide is separated into five sections:
Permeable Materials
Certified Woods
Reclaimed and Recycled Local Materials
Recycled Content
Reflective Materials
Adhesives, Paints, Coatings and Sealants
As an example, the section on "permeable materials" includes Chicago's Green Alley handbook, as well as studies from the U.S. EPA and city of Portland on using permeable pavements to manage stormwater. There are also links to projects that have successfully incorporated these concepts in a residential context.
Tags: città, produzione, qualità della vita, riciclo e riuso rifiuti, sostenibilità, tecnologia