Spectacular Urban Transformation in Student Green Roof Design Competition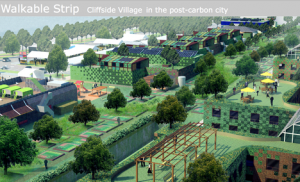 As part of the Cities Alive Green Roof Infrastructure Conference in Toronto, there was astudent design competition, that Steven Peck of Green Roofs for Healthy Citiesdescribed as a challenge to "faculty-led student teams from around the world to develop ways of productively using the walls and roofs of multiple buildings by incorporating green infrastructure elements such as green roofs, green walls, wetlands and urban forests."
But that doesn't begin to describe what the spectacular winning entry does. It is more than just green roofs, it is a complete reinvention of the ubiquitous strip mall.
Ryerson University Architectural Science students Dov Feinmesser, Yekaterina Mityuryayeva, Tommy Tso and Aaron Hendershott, with faculty advisor June Komisar Started with the completely ordinary Cliffside Village Mall in Toronto's east end. They then went to work on it:
It is our intention to lift the strip mall out of the mire it has gradually sunk into and make it the vibrant, pedestrian and community friendly environment that it has the potential to be. This potential, we feel, is inherent in every strip mall, making this proposal a viable solution for the revitalization of dilapidated commercial strips throughout North America, with the addition of site- specific accommodations.
The judges write:
"The brilliance of this design", said Dr. Brad Bass, Environment Canada official and competition judge, "is that it accomplishes this transformation with existing technologies and landscape modifications that have been evaluated and have proven their worth all over the world."

The students continue:

It is our hypothesis that single-use zoning, such as that of the existing Cliffside Plaza and most strip malls, promotes the isolation of the commercial space and the wasteful use of space dedicated to parking. As such, our proposal recommends a rezoning of the site, allowing for residential units to be constructed over the existing commercial strip, bringing the community into the strip mall and creating a coexistence reminiscent of successful and popular older neighbourhoods often found closer to the downtown core of large cities. Furthermore, the insertion of green and interactive spaces into the fabric of the site promotes new and diverse activities, including farmer's markets, playgrounds, urban farming, cycling etc… This in turn supports the diversity of the community surrounding the mall.

Ideas include:

1) Implementation of green walls and extensive green roofs, including a massive overhauling of the parking between the residential apartments and the strip mall, moving it below grade and planting an extensive green roof atop the parking structure to create a continuous green space for local residents.
2) Removal and replacement of an existing drive-through with an outdoor seating area.
3) The addition of greenhouses to existing roofs in order to facilitate year-round rooftop harvesting.
4) The insertion of a grade level gray water removal and retention system, including porous asphalt, a swale and a bio-retention pond, that both keeps gray water away from the sewage system and provide water for the intensive urban farming lots proposed in the design.
5) Solar powered street lighting systems.
6) The removal of parking from street level to below grade to make more room for green spaces and urban farming at grade.
Tags: città, consumo, distribuzione, Ecotown, produzione, qualità della vita, workspace