Ki- work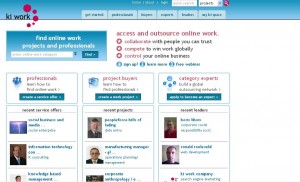 ki work: a business community for finding and outsourcing online work. 
access and outsource online work.
-collaborate with people you can trust
-compete to win work globally
-control your online business
KI work is for:
Professionals: to find online work
project buyers: to  find professionals > create a work project
category experts: to build a global outsourcing network > apply to become an expert
find online work
search for online projects in nearly 500 marketplaces and create a profile and 'service offers' to express your unique talents
outsource online work
find trusted professionals for your online jobs by searching ki work's marketplaces or posting online work projects
connect with other online professionals
connect with potential candidates for your projects and meet other like-minded professionals in your favourite marketplaces.
what's so good about ki work?
designed by and developed for people who work online
ki work recognises all the pluses (and few minuses) that come with working online, and has been designed specifically for people who want to find and outsource online work.
unique 'service offers' summarize your online talents
as well as creating a single personal profile, you can create a 'service offer' for each of your main online skills. these are focused summaries of you online skills, and give potential employers an immediate, searchable overview of your abilities in a field of online work.
category marketplaces make effective communities
ki work is organised into nearly 500 category marketplaces, each covering a specific online business function. after posting your service offer or project into a marketplace, you can easily connect with other professionals in your field, from potential colleagues and employees, to marketplace experts and leaders.
certification increases trust
to improve status, visibility and credibility in a marketplace, anyone posting a service offer or project can apply for certification, which is approved by experts (or the leader) of that field. see premium services
marketplaces powered by category leaders and experts
marketplaces are designed to be driven by experts and leaders of the field, who help make the markeplace a thriving community, and in return receive greater status and visibility, and a percentage of certification fees. see premium services

Tags: excange knowledge, Lavoro, mass collaboration, networking, online business