Huddle
Huddle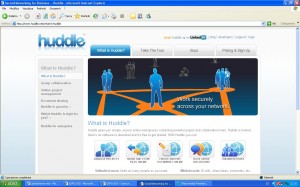 Huddle gives you simple, secure online workspaces containing powerful project and collaboration tools. Huddle is hosted, there's no software to download and it's free to get started. With Huddle you can:
Manage Projects
Share and Store Files Online
Create and Edit Documents Online
Have Group Discussions
Unlimited Users
Unlimited users: Invite as many people as you need.
Discussions: Don't 'reply all'. Use Discussion forums to brainstorm ideas.
Document creation: Create and edit Word and Excel documents online.
Storage: Store, share and manage your files 1GB+.
Project alerts and notifications: Assign tasks, auto reminders and iCal integration.
Whiteboards: Or wiki, share ideas, comments, etc.
Document management: Automated versioning, audit trails and approval workflows.
Custom branding: Customise your dashboard, homepage, emails, own URL.
Notifications: Via dashboard, email, and RSS.
Security: 128 bit SSL, control over who can see and read documents.
document sharing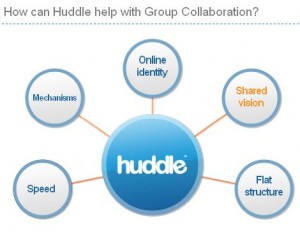 group collaboration
Speed
Online editing: Make changes to files online
Search: Search files by name, type, author, date
iCal: Add tasks to your other calendars
mechanism
Manage: Projects, Teams, Relationships
Space: from 1GB free
Unlimited users
Tools: Whiteboards, Calendars, Free online word processor & spreadsheets
Support: Online, email, phone
Online idenity
Users: Control who joins, posts and works in your huddle. View team profiles
Tracking: Track reviews, approvals, progress. Post & view comments on all items
Permissions: Set user privileges, see audit trails of activity. SSL security
Shared vision
Whiteboards: Brainstorm ideas
Workspaces: Bring as many people as you wish into one workspace
Notifications: Alerts by email and RSS
Flat structure
Network: Choose best people for the job, regardless of location
Dashboard: See all your workspaces in one place – regardless of who set them up
Branding: Simple customization of dashboard and individual workspaces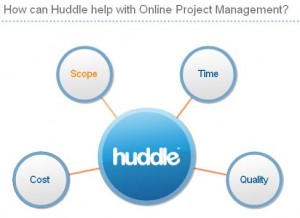 Cost
Low-priced and more value for money than competitors
Unlimited users
Free accounts starting with 1Gb space
Scope
Workspaces: Create a workspace for each project you are working on
Members: Invite the right people to work with you in your project workspaces
Simplify your online project management: Assign tasks, view calendar, auto reminders
Time
File Store: Store and share documents from one place
Online editing: Make changes to documents online
Search: Search files by name, type, author, date
Calendar: Assign tasks, automatic reminders, iCal integration
Quality
Tracking: Track reviews, approvals, progress. RSS, email alerts
User permissions: Set user privileges, monitor usage
Security: SSL, dedicated data centre, fully backed up, guaranteed uptime
Price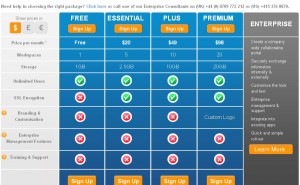 Tags: coworking on line, excange knowledge, Lavoro, mass collaboration, networking