Crowdspring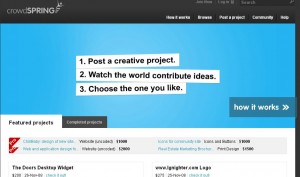 We're the marketplace for creative services.
For buyers
1. Post a creative project : Whether you need a custom logo, website, marketing materials, illustration, or other design work, just tell us what you need, when you need it and how much you'd like to pay. After that, we'll send it out to our 9,480 creatives around the world!
2. Watch the world submit ideas:Once posted, creatives will submit actual designs to your project, not just proposals or bids. In fact, projects average 67 entries each and we guarantee that you'll get at least 25 entries or your money back.
3. Choose the one you like:As the entries come in, you'll be able to review, sort, rate, give feedback and collaborate with creatives until you find 'the one'.
For creatives
1. Create your profile: We built a little section of the site just for you where you can tell the world about your skills and create a great portfolio of your best work for all to see.
2. Participate to projects : With many new projects posted every day, you'll reach new clients all over the world and build your business. And, since it's a truly level playing field, you won't be judged by how fancy your offices are – it's all about your work.
3. Earn money : We manage the entire billing and payment process and we never keep a penny of the money you earn – you get every last cent.
Standard and Pro projects,Money-back guarantee,Intellectual property protection,Payment escrow,Feedback, ratings and stats,Community…
Tags: cooperazione, crowdsourcing, Lavoro