creativespace.com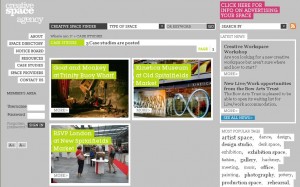 The Creative Space Agency is an innovative service that links owners of vacant property with creative professionals looking for potential spaces in London in which to work, exhibit, perform or rehearse.
The services on offer through the Creative Space Agency include an up to date list of available spaces in London, handy fact sheets and regular training sessions to help creative professionals get the most out of the service.
The Creative Space Agency is a project delivered jointly by CIDA (the Cultural Industries Development Agency) and Urban Space Management.
CIDA is the leading support organisation for the creative and cultural sector. We help thousands of creative individuals, businesses and arts organisations by providing information, business support, professional development training, networking & showcasing opportunities, and by commissioning new work.
Urban Space Management is a leading developer and manager of regeneration projects in Great Britain and the United States, drawing more than 15 million visitors to it projects annually.
This initiative is funded by Arts Council England, London and the London
http://www.creativespaceagency.co.uk