giovedì, aprile 15th, 2010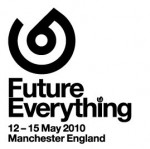 Future Everything is a Festival of Art, Music & Ideas, organized in the City of Manchester (the 2010 edition will be from 12th to 15 May). Originally named Futuresonic is now becomed FutureEverything, is a Festival that use mass participation in creativity and social innovation to think and bring the future into the present.
This Festival,, has a strong global network and international profile, and is recognised around the world for leading pioneering projects and important international debates.