domenica, novembre 23rd, 2008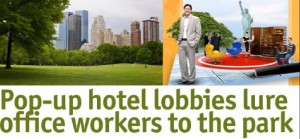 A few weeks ago, we wrote about how Microsoft's Surface technology is being used at Sheraton hotels, letting hotel guests use interactive touchscreen 'tables' to access local information and plan their stay. As we mentioned, the interactive tables are part of a wide-reaching partnership between Sheraton and Microsoft, which also includes new high-tech hotel lounges named "The Link@Sheraton experienced with Microsoft", thankfully shortened to Link@Sheraton.
Launching Link@Sheraton in a big way, the hotel brand invited New Yorkers to abandon their desks yesterday to work from Central Park, where it recreated its new lounges and set the right example by stationing around 600 of Starwood's own employees to work remotely using Link@Sheraton's technological offerings. The event, dubbed Global Out Of Office Day, was also celebrated in in Shanghai, where Sheraton took over part of West Nanjing Road, and in Sydney's Customs House. Last but not least, G.O.O.D. will be hosted at the Sheraton Lisbon Resort & Spa on Thursday, September 18th. Starwood—Sheraton's parent company—will also be offering free wifi in Central Park's Sheep Meadow through the rest of September. While tumbling markets made for rather awkward timing, especially since Sheraton hopes to attract more business travellers, the concept playfully combined a number of consumer and marketing trends that are still going strong: pop-up spaces, online oxygen, brand butlers and, of course, new spaces for mobile workers.