Bureau Broedplaatsen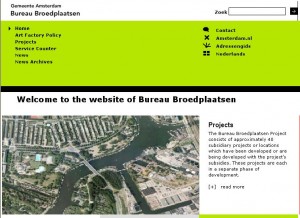 Bureau Broedplaatsen is set up by the City of Amsterdam. Its role is to find and develop more affordable studios and living/working spaces for artists and alternative cultural entrepreneurs. Bureau Broedplaatsen does not have studios or living/working spaces for rent. The Bureau Broedplaatsen Service Counter offers the groups and individuals belonging to the target group of the project practical information and answers to questions about searching for, finding and maintaining suitable and affordable accommodation.
What kind of information can the Service Counter provide me with?
- Expertise
How can I start up an art factory myself, and what assistance can Bureau Broedplaatsen offer me?
- Procedure/subsidies
Explanation of the procedures followed by Bureau Broedplaatsen, subsidies and conditions.
- Contact with art factories and free spaces in Amsterdam
Information about how to contact art factories or free spaces.
- Links
A list of relevant links that can be of assistance.
http://www.broedplaatsamsterdam.nl/en/nieuws_details.php?elem_id=1333
Tags: Lavoro