A Freeway Becomes a Farm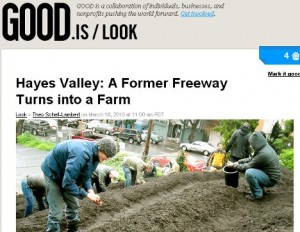 The 1989 Loma Prieta earthquake did serious damage to many of the raised highways in and around San Francisco. For many, the only option was to tear them down—leaving broad areas of urban space that to this day remain unused. Citizens living near one of these areas, however, have transformed the former highway into a farm.
San Francisco plans to develop this lot eventually, probably with mixed housing and greenspace. But a clever new project has been conceived for the interim years: an urban agriculture cooperative called the Hayes Valley Farm. "The Hayes Valley Neighborhood association contacted the Mayor's Office of Economic and Workforce Development to 'activate' the lots," says Chris Burley, now the project's director. Agriculture was the idea that moved everyone. "We've all seen the power of gardens to transform a space," he says.
Tags: cibo, città, consumo, cooperazione, distribuzione, Ecotown, produzione