99design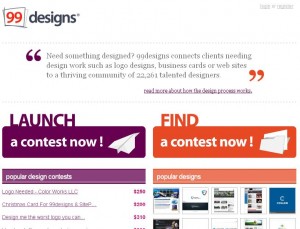 Need something designed? 99designs connects clients needing design work such as logo designs, business cards or web sites to a thriving community of 22,261 talented designers. 99designs is a disruptive startup which connects passionate designers from around the globe with savvy clients who need design projects completed in a timely fashion without the usual risk or cost associated with professional design.
Step 1: Create Your Design Brief :We will ask you a few simple questions that will form your design brief. A design brief is just a summary of what you need designed. It costs $39 USD to post your brief on 99designs.com.
Step 2: Set Your Budget :We will ask you how much you're willing to pay the winning designer to purchase their design. This is called the prize. Prize amounts generally range from $50 to $500 depending on the type of design you require.
Step 3: Work with the Designers:Once your design brief has been posted to 99designs.com, designers from around the globe will submit design concepts to compete for your prize. It's your job to rate the designs and provide feedback to help the designers deliver what you want.
Step 4: Choose Your Favorite Design :At the completion of the design contest (which is a maximum of 7 days) you will choose a winning design and pay the designer the prize amount. The designer will send you their completed design along with copyright to the original art work.
Tags: crowdsourcing, Lavoro